Listen to "Retire Your Way" Podcast!
Find out what it means to "Retire Your Way" by subscribing and listening to Dave Lopez's podcast.  You'll hear Dave talk about current events impacting the economy and overall retirement landscape, as well as ILG Financial's 5-Step Process where you receive comprehensive advice from their team of highly qualified professionals who've successfully managed money through some of the most difficult times in history.
About 'Retire Your Way' with Dave Lopez
In the inaugural "Retire Your Way" podcast we get to know Dave and his path to becoming a financial advisor. Dave went to school for computer science and math, but upon graduating he moved into the insurance industry where he built a company for over 18 years. He retired and sold the firm in 2003, and in 2008 the housing bubble burst, which started him on his quest to become a licensed life, health, and annuity agent.
Click to listen to Dave's latest "Retire Your Way" Podcast episode!
REQUEST YOUR PERSONAL COMPLIMENTARY FINANCIAL REVIEW!
GET OUR BOOKS!
Live out your best retirement possible!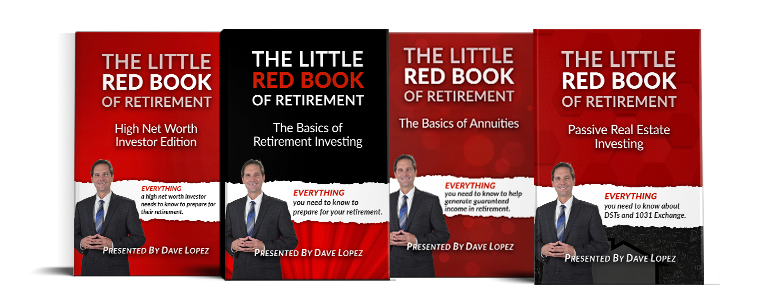 REQUEST YOUR PERSONAL COMPLIMENTARY FINANCIAL REVIEW